Specific properties of book and CD
U kan de foto vergroten via een muisklik of via de entertoets.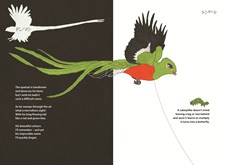 Let's have a look at the specificity of Snizzly Snouts as an innovative teaching tool, by clarifying some features of book and CD.
It is important to realize why the book is the way it is.
This will definitely help you to streamline your ideas and determine your method.
Inclusion
Snizzly Snouts is an inclusive book. This means: organized in a way that makes it possible for everyone to participate automatically, naturally and up to the mark - including people with disabilities.
Our society is gradually becoming more inclusive. Snizzly Snouts is the first children's book to be really inclusive. Everyone can fully enjoy it, even those who are blind or partially sighted, dyslexic or impeded by another reading impairment. Vivid contrasting colours, clear lettering, subtle embossing, Braille and audio make the pictures and poems accessible to everyone. This way they are also more attractive and stimulating for children who do not have a reading disability. In other words, inclusion provides an added value for everyone.
Audio description
On the audio CD of Snizzly Snouts we find, beside the poems from the book, many descriptive texts. For these texts the system of audio description was used.
Audio description has a growing range of applications, including guided tours in museums and additional audio tracks for movies. The purpose of audio description is that blind and partially sighted persons get additional information about details that are visible but not audible, like mimicry in a movie or the composition, style and symbolism of paintings at an exhibition.
In the case of Snizzly Snouts, the audio description allows visually impaired readers to 'see' the whole book. At the same time they are guided to explore the pictures by feeling them – this is the so called 'GPS function' of the CD.
However, this verbal description is not only meant for blind people, but also for readers using a blindfold or turning off the light. They are able to experience this book just like blind people do. Snizzly Snouts is a book that wants to be discovered in a tactile way!
We tried to make the descriptive texts as simple, engaging and stimulating as possible. They are aimed to encourage the children to explore by feeling. In addition to a description of the pictures and the relief, they also contain lots of funny and educational facts. These are all starters for possible classroom activities. The most diverse themes and learning fields are incorporated.
Blind people often have a lot of experience with interpreting by feeling and listening: it is their everyday way of experiencing the world. For people who lack this experience, working with audio description is more of a challenge. When experiencing Snizzly Snouts with their ears and fingers, sighted children – paradoxically – have a disability in comparison with their blind peers! On the other hand sighted children can, of course, combine feeling and listening with visual perception, which blind children can't.
The ideal way of working with Snizzly Snouts would be putting a sighted and a blind child together and allowing them to exchange their experiences. But that will not be possible in most cases. This does not mean that sighted children can't exchange experiences. Make them 'blind' for a moment. In their own ways children will often show surprising talents!
Please note that 'looking' by feeling and listening is difficult if you're not used to it. Don't start your workshop by playing the descriptive tracks. Make sure you introduce things well. Go along with the children's reactions. Start by bringing the audio description about in your own words, tailored to your class, inspired by the CD content. We aimed at a universally comprehensible text, but obviously this was not easy – especially given the considerable amount of GPS information that was necessary. Some descriptions speak for themselves, others are a little less obvious. Select the most appropriate pages for your class. The following pictures are probably the most easy ones to discover by feeling: trumpet, frog, elephant.
It is certainly possible for all children to see with their fingers, after some practice! The younger the child, the more experienced it will be!
Braille
In the back of the book a Braille alphabet can be found. Obviously it would take a lot of time for sighted children to learn to feel this alphabet, as Braille characters are quite small. But children (from the upper classes) can easily learn to read Braille with their eyes. Once they understand the basic principle (an 'egg box' filled with dots), they are able to decipher all the 'secret messages' in the Snizzly Snouts book. Soon they will know most of the Braille letters by heart.
While the Braille texts in the book are immediately accessible for blind readers, they form an exciting challenge for sighted children. In a playful and positive way we want to give sighted children a real insight in this very special script.