The great surplus value of this book
U kan de foto vergroten via een muisklik of via de entertoets.
Inclusion: enriching for everyone
An inclusive picture book with full verbal description, including a 'GPS for the fingers': this is really something new! Thanks to the innovating approach, any child with a reading impairment is able to experience Snizzly Snouts in full - alone or together with children without these impairments.
For sighted parents with a blind or partially sighted child and for visually impaired parents with sighted children, Snizzly Snouts is an exceptional chance to read a picture book together, sharing experiences.
Children with reading disabilities are offered a picture and poetry book of great artistic and literary quality, which gives them lasting pleasure and opens up their world. The same book is equally fascinating and enjoyable to their friends who don't have reading impairments. All of them get a multi-sensorial training, broadening their artistic experience.
All users of the book are playfully introduced to various worlds of experience. Three senses get equal attention: seeing, hearing and feeling. The verbal description brings up various themes that have to do with visual impairments. Indeed: many animals have these impairments too - though for them they usually are no disabilities!
An example of how it can be done
The subtitle of Snizzly Snouts reads: "A picture and poetry book to read with your ears, to look at with your fingers, to feel with your eyes". This only partially describes the potentialities of this book.
This project is social and artistic at the same time. The book is especially suitable for children from 4 up to 12 years.
All adaptations are done with the utmost care. This is fully in line with the inclusion philosophy: Braille and speech, large print and relief can be as aesthetically pleasing as classic print!
This project especially aims at (regular and special) schools and public libraries, where the book and CD can be used by many.
Snizzly Snouts sets a new trend. We want to show the world how a book can be really inclusive.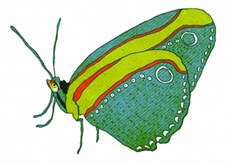 Bundled experience
Blindenzorg Licht en Liefde (Belgium) and NCBI (Ireland) have published the English version of this book together, pooling their experience.
Because the inclusive approach unfortunately doubles the cost in comparison with an ordinary picture book, Snizzly Snouts could only be a non-commercial, subsidized project.